Metro Transit Network Redesign
Community Meeting on Draft Plan
Thursday, February 24, 2022 – 6:00pm to 7:30pm
Attend a virtual community wide meeting to learn more about Metro's draft network redesign plan expected to go into effect in 2023.
Virtual on Zoom
https://cityofmadison.zoom.us/j/81025001890?pwd=bnNyY2c5aVFTZ0cxTm9UOHFa… 
Dial In: 1-312-626-6799
Webinar ID: 810 2500 1890
Passcode: 887972
This meeting will be recorded.
Comments from the public are a critical component in creating the best transit plan possible. Feedback on the Draft Plan can be presented at the public meetings or by emailing MetroRedesign@cityofmadison.com and/or info@cmnna.org  This Draft Plan was designed to achieve the Transportation Policy and Planning Board's objective of a new network centered on the "mostly ridership" goal – focusing on fewer routes that are more direct and frequent, while providing coverage where it is needed most.
Changes between the 2019 pre-pandemic Bus Routes and the 2022 Draft Plan for the Crawford, Marlborough and Nakoma neighborhoods.
The pre-pandemic Route 19 that had service on Seminole Hwy., Mohawk Dr., Nakoma Rd., Monroe St., UW Campus and Downtown has been replaced with Route D2 with service on Midvale Blvd., Odana Rd., Monroe St., UW Campus, Downtown and the Airport.
The 2022 Plan increases weekday frequency of service on Midvale to every 30 minutes and every 15 minutes on Odana Rd. and Monroe St.
The 2022 Plan designates that some areas would be a longer walk to transit service and in some cases transit may be too far to walk to.
2019 Transit Routes Prior to the Pandemic
Route 19 serving the CMNNA Neighborhood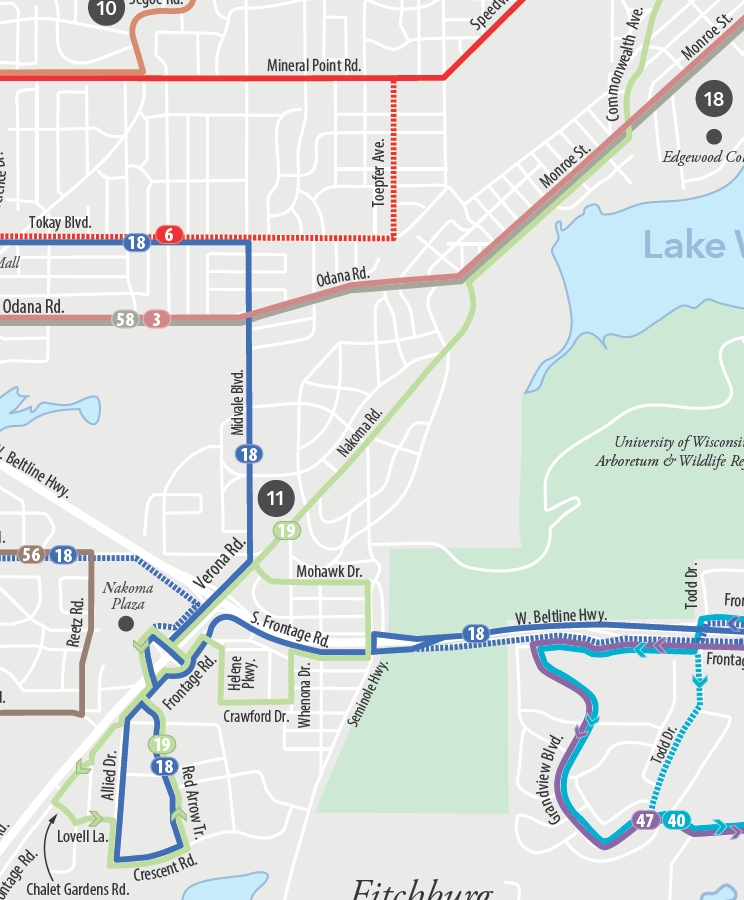 2022 Proposed Routes in the Metro Transit Redesign Draft Plan
Blue Routes have weekday service every 30 minutes and Red Routes have service every 15 minutes.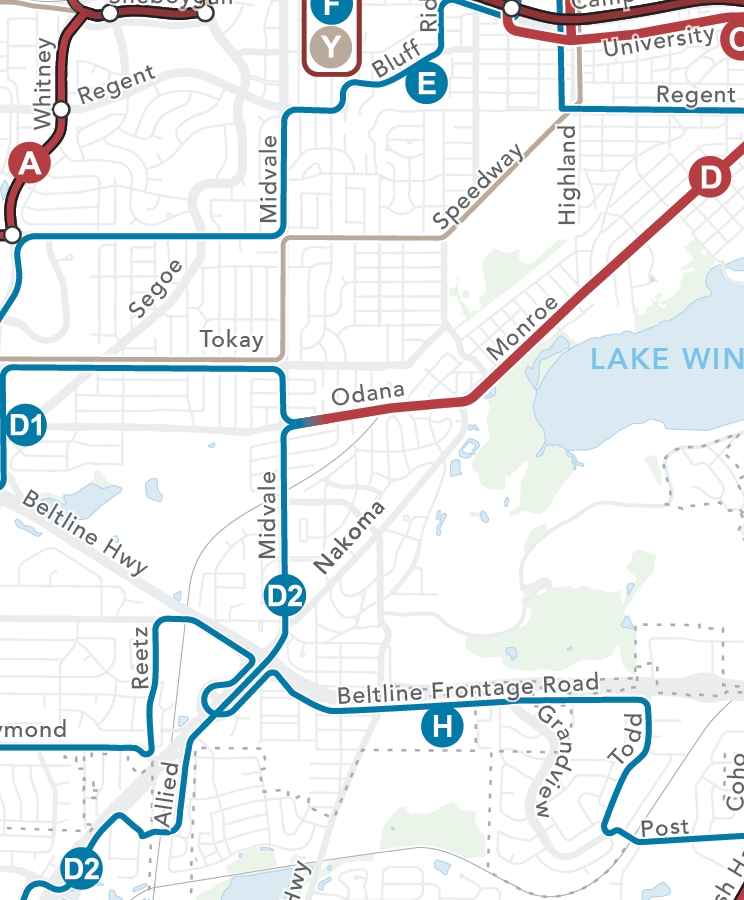 Review Metro's draft Transit Network Redesign Plan.
Review Draft Plan PDF 
Draft Map PDF
Draft Interactive Map  
Analysis on Proximity to Transit, Frequency of Service, and Access to Jobs
Community Engagement Report
Travel Time Maps
Feedback can be submitted ahead of time by emailing MetroRedesign@cityofmadison.com and/or info@cmnna.org