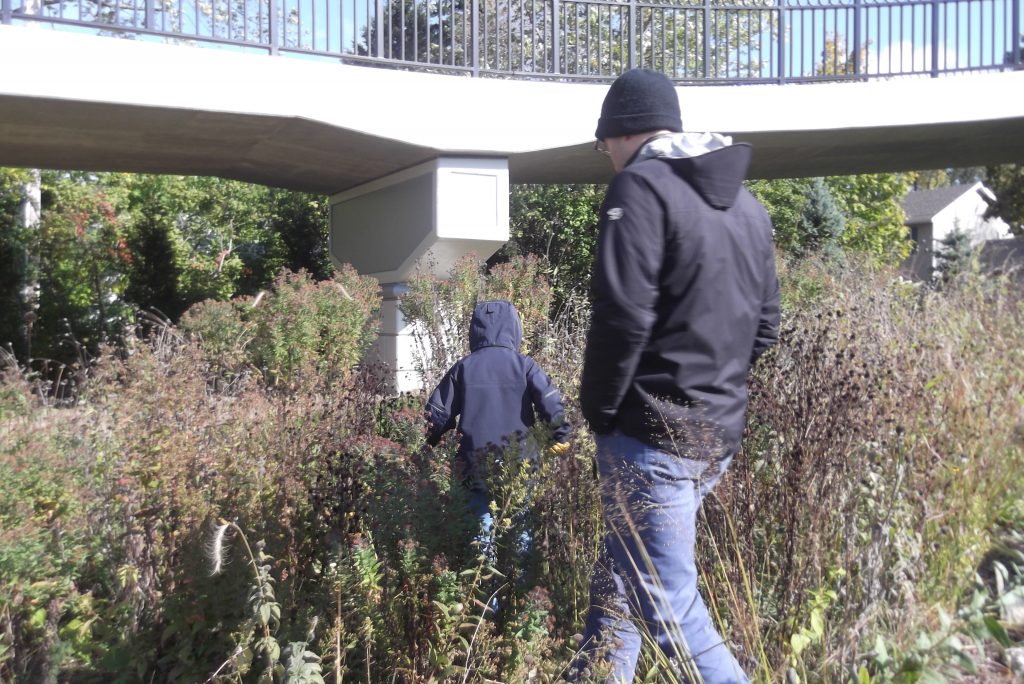 Well, here we are at the end of October, and Fall seems to be giving way to Winter already! It was a busy time in the gardens from mid-August to early October. Our major accomplishment was the construction and planting of our new Rain Garden, beginning in mid-August. Planting continued through September and into October, with a total of about 290 plants, of 29 species put in. Plants came from a wide range of sources, including CMNNA purchases, plant donations from neighbors and garden volunteers, donations from Plant Dane, and many seedlings planted and grown on my deck. At least 65 volunteer hours were put in. A total of five shrubs were put into the Rain Garden and open space, replacing the invasive pear trees that were removed.
The gardening season ended with a celebration and Open House on October 12. It turned out to be a cold and windy day, and attendance was down compared to last year. Our displays and hand-outs threatened to blow away. But the hot coffee was popular, and the cake and cookies brought by Shelley and Janet went over well. Several children showed up, and enjoyed finding and walking the new "hidden" step-stone path through the Butterfly Garden. A very large green dragonfly fluttered about, hopefully about to head South. Our advisors Susan Carpenter and Molly Fifield Murray answered questions, identified plants, and made suggestions for future tasks and activities. They seemed pleased with how things are turning out.
Our one remaining task, after the ground has frozen, will be to mulch the rain garden and new shrubs heavily with little bluestem straw, to minimize freezing and thawing. We purposely do not carry out a cleanup of dead stalks. The seed heads provide food for many migrating and wintering birds, and the hollow stalks are critical as overwintering shelter for many pollinators. Black Swallowtail and Luna Moth cocoons and Mourning Cloak adult butterflies overwinter under leaves and twigs. Rabbits, mice and voles will shelter in snow-covered brush.
A hearty and sincere Thank You to the stalwart volunteers who put in all those hours this summer and fall! If you would like to be on the gardening volunteer list, please send an email to Carol Buelow, area6@cmnna.org.