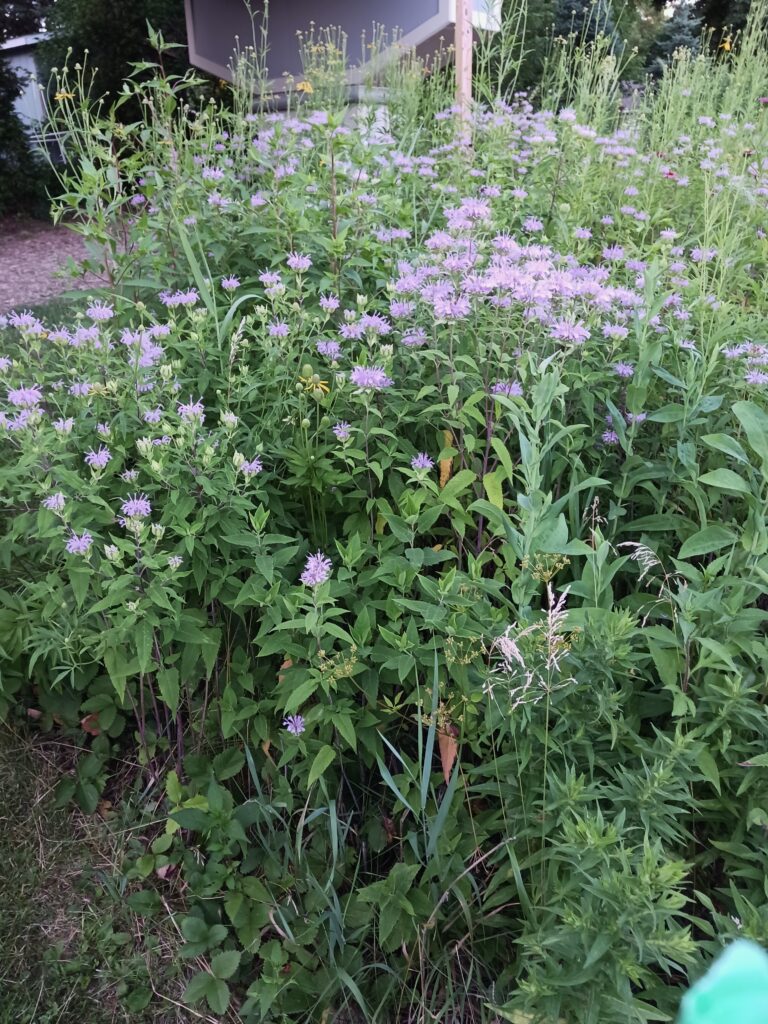 Greetings, and welcome to a mid-summer gardens update! There is plenty to report, as the Warwick Way Gardens are nearing their peak of summer blooms. Bee Balm, or Monarda, is in full bloom. This is the true native Monarda, with a somewhat smaller, lavender flower compared to the bright red and burgundy of some of the cultivars.  It is called Bee Balm for good reason, as it is swarming with bumble bees gathering nectar and pollen. Yellow Coneflower will soon appear to be taking over the Pollinator Garden, especially since the stalks are among the tallest in the garden. Later, Showy Goldenrod will come on strong and provide good competition.
The Rain Garden is flourishing. Butterfly Milkweed has been showing off its bright orange flowers for a while now.  Buttonbush is displaying its spherical white blooms. A fascinating thing that is continuing this season, is the spread of plants from the Pollinator Garden seeding into the rain garden.  We are seeing lots of plants that were not part of the original Rain Garden plant mix. Common milkweed and Coreopsis are spreading around the edges, and the end closest to the Pollinator Garden has filled in with Bee Balm and Yellow Coneflower.  We have worked on thinning out Daisy Fleabane from a center area, and planted a few White Baptisiaand Jacob's Ladder to fill in bare spots. Fleabane is a native plant that is quite aggressive. Unless I have other plants to put in its place, I tend to leave it alone.
For a change of scenery, I'd like to highlight the progress of our Pollinator Garden in the Cherokee Median, near Waban Hill. This Garden was started in 2020 as part of the City's Adopt a Median program.  After smothering the grass for most of the Spring and Summer, plants we chose, that were paid for by the City, were put in starting that September. For this garden, we grouped plants of the same species together, so the garden has a more planned look. The flowers and plants show up well. Wild Columbine began blooming the first season, and has continued to do well. At the moment, Butterfly Milkweed, Purple Prairie Clover, Hoary Vervain, Mountain Mint and Whorled Milkweed are in bloom. And already, some plants are spreading by seed: the Whorled Milkweed, a white-flowered milkweed with very narrow leaves, has spread and is blooming, and lots of small Smooth Blue Aster seedlings are in evidence all over. We extended the length of the garden last year, and added Native Lupine, Sullivant's Milkweed, and Meadow Blazingstar, a Monarch favorite.  These have all come back up and some of them will bloom later this year.
If you are interested in helping with any of the gardens, send an email to area6@cmnna.org.  And be sure to come and visit all of them often, they are always changing!